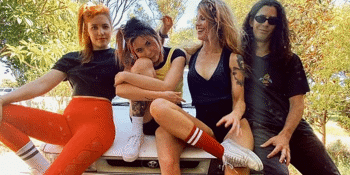 Internet Friends
Four5Nine Bar (North Perth, WA)
Friday, 28 August 2020 8:00 PM
Four5Nine at the Rosemount is about to get hot and heavy as Perth's Internet Friends take to the stage for a not to be missed headliner show.
Internet Friends are a four piece a musical mashup from Perth, Western Australia. Made up of Booka Nile (of Make Them Suffer), Dylan Brown (formerly of Good Doogs) and Tarryn Gapic. The band showcases talent from two of the most successful bands to come out of Western Australia, creating music that is satirical and fun in nature and that is a unique fusion of rock, punk, indie, synth, pop and grunge. The band is seemingly unfamiliar with the terms 'subtle' or 'low key', delivering a colourful live show with big energy, big attitude and big hair. From love songs about sex toys through to tracks calling out seedy music industry staff, Internet Friends uses dark comedy, catchy melodies and funky synth lines to address real and contemporary issues through their music. Highly inappropriate and highly entertaining, they are an up and coming act not to be missed.
Internet Friends will be supported by local legends Asher Iriks (formally of Good Doogs) and Shontay Snow (of Saviour) in a not to be missed performance.