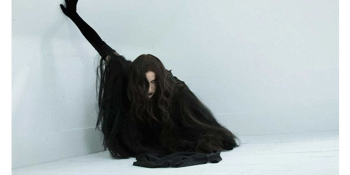 Chelsea Wolfe (USA)
with Emma Ruth Rundle
Rosemount Hotel (North Perth, WA)
Tuesday, 14 June 2022 7:30 PM
Bird's Robe, the promoters for celebrated US gothic-rock/folk/doom-metal luminary CHELSEA WOLFE have announced her Australia & New Zealand tour will be rescheduled for 2022.
Hi everyone,
Due to the ongoing pandemic and continued border restrictions for international travel, we have had to reschedule the upcoming
Chelsea Wolfe
&
Emma Ruth Rundle
Australian & New Zealand tour for 2022.
For those concerned, we considered all options to make these shows happen, including the extensive hotel quarantine requirements for international performers & crew. However the costs of these would make the tour unviable for all involved. We also did not feel it was appropriate to seek special consideration for visas and travel when there are still so many people waiting for flights to return home to Australia and New Zealand. Added to this, the uncertainty over limited venue capacities, snap lockdowns and border closures (at least until the vaccination program is complete) is a major financial risk that we can't afford to take.
The good and great news is that both Chelsea and Emma are still committed to this tour and rescheduling all of the originally planned dates. By the time this tour rolls around it will have been a full 10 years since Chelsea's last Australian tour and still remains Emma's first ever visit to our shores. It's going to be worth the wait to be able to celebrate these legendary artists in happier times.
Thanks again for your understanding & patience.
Thanks also to Chelsea, Emma and Cathy from
Sargent House
and Ben from Valhalla Touring for working through all of this with us.
Wolfe will tour with her four-piece band, as well as bringing along Sargent House labelmate EMMA RUTH RUNDLE performing solo as support for all shows.
The rescheduled dates for 2022 will see both artists play their first ever New Zealand shows in Wellington & Auckland, before continuing on to Perth, Adelaide, Brisbane, Sydney & Melbourne.
Chelsea Wolfe will perform a career-spanning set on this tour, including songs from her new album "Birth of Violence" released in 2020.
Chelsea Wolfe last played in Australia in 2016 for Tasmania's Dark Mofo event, with her last full national tour back in 2012.
In the meantime, she has continued to earn a cult following worldwide, propelling her previous albums 'Hiss Spun' (2017) & 'Abyss' (2015) onto the Billboard 200 albums chart and further critical acclaim.
From Roskilde Festival to selling out club tours, Chelsea Wolfe's versatility as a performer and songwriter is on full display at her visceral live performances, whether solo or with her band.
2020 marked 10 years since her debut 'The Grime and The Glow' was released, sparking a career that has influenced and inspired fans across continents to appreciate life in both its darkness and light.
'Birth of Violence'
was written and recorded in solitude at home in Northern California. Following the brooding heaviness of 'Hiss Spun', Wolfe chose to return to her folk roots. These songs describe 'an internal awakening of feminine energy, a connection to the maternal spirit of the Earth and a defiant stance against the destructive and controlling forces of a greedy and hostile patriarchy.'
Opening track 'The Mother Road' quickly establishes this sound: simultaneously unnerving and soothing. Whilst critical reviews have been positive, it's perhaps the feedback from her fans that best describes the power and allure of Chelsea Wolfe in its simplest form:
'After the doomy heaviness of Hiss Spun, another acoustic record – she seriously can nail it in any style'
'Her heavier, doomy records got me into her music, but her acoustic material is completely entrancing.'
'I cannot believe I am lucky enough to be alive in a time where Chelsea Wolfe exists'
Chelsea Wolfe will be joined at all shows on this tour by singer songwriter EMMA RUTH RUNDLE. Revered for her powerful and evocative songwriting as much as her artistic flair and versatility, she was also invited to curate this 2020's Roadburn Festival (postponed due to coronavirus restrictions). In addition to her work with renowned groups RED SPAROWES, MARRIAGES & THE NOCTURNES, Emma has released five solo records, most recently 2018's 'On Dark Horses.' Her passionate live performances are renowned as much as her songcraft and Australian & Kiwi fans will finally get to experience her live performances for the first time ever this June.