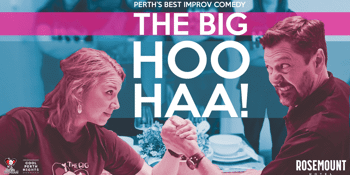 The Big HOO-HAA!
Rosemount Hotel (North Perth, WA)
Thursday, 10 December 2020 8:00 pm
Once again it's time to laugh out loud in a room full of strangers. Every Thursday in December, The Big HOO-HAA! takes the stage at one of Perth's most iconic venues to bring improv comedy to the people of Perth who are finally being let out of the house and off the Covid leash.

The Big HOO-HAA! Is a night of comedy that will help you forget your troubles and have you laughing out loud from start to finish. In the style of "Who's line is it anyway" and "Thank God You're Here" The Big HOO-HAA! sees two teams of fearless comedians take the stage to do battle in a competition of wit, humour and dubious musical skills in an effort to win the coveted HOO-HAA Trophy. It's a no holds barred race to the punch line.

This is an interactive show that uses the audience suggestions to create improvised comedy sketches. The show is completely improvised therefore every performance is wonderfully unique and created just for you!