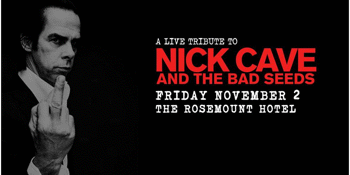 A Live Tribute To NICK CAVE AND THE BAD SEEDS
Rosemount Hotel (North Perth, WA)
Friday, 2 November 2018 8:00 PM
Join us at the Rosemount Hotel on Friday November 2 for a tribute to work of Nick Cave.

THE GOOD SONS will be kicking against the pricks live on stage, performing tracks from 'Murder Ballads', 'Tender Prey', 'Let Love In' and many more over 2 sets. You might even hear a couple of tunes by The Birthday Party, Grinderman and Boys Next Door..

THE GOOD SONS are Laith Tyranny (Bible Bashers / Fear Of Comedy) on vocals, backed by Jon Fernandes (Odette Mercy & The Soul Atomics) Lee Afentopolous (Bat Country / Meaning of), Aidan Gordon (Michael Savage / Tenderhooks) and Tim Hamzah (Bats).

Members of The Goods Sons have worked together previously to pay tribute to artists such as; Elvis Presley, The Cramps, Red Hot Chilli Peppers and more.