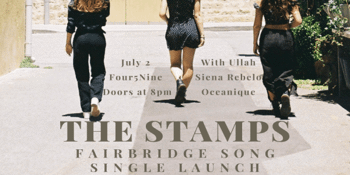 The Stamps 'Fairbridge Song' Single Launch
with special guests Siena Rebelo, Ullah & Oceanique
Four5Nine Bar (North Perth, WA)
Saturday, 2 July 2022 8:00 pm
Come celebrate the release The Stamps' single, 'Fairbridge Song' and experience the silky smooth, delicate harmonies of Rubina, Scarlett, and Sofia on a night that simply can't be missed!
'Fairbridge Song' was written after Fairbridge Festival in 2021 and draws inspiration from the experiences over the weekend. Consider 'Fairbridge Song' a souvenir of your most cherished moments, a chance to take you back to the emotions, the people and the memories.
The girls, joined by a full band, will bring their stunning harmonies to the Four5Nine stage to make you laugh, cry and everything in between. Joining the line-up on the night will be Siena Rebelo, Ullah & Oceanique.

This killer line-up will be one for the books, tickets on sale now so grab yours while you can!!