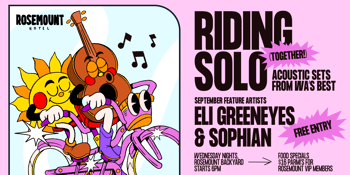 Rosemount Hotel presents
Riding Solo ft. Eli Greeneyes & Sophian
Eli Greeneyes & Sophian
Rosemount Hotel (North Perth, WA)
Wednesday, 7 September 2022 6:00 pm
Rosemount Hotel presents Riding Solo (together!) Wednesdays from 6pm in the Backyard. Two extraordinary singer-songwriters go back-to-back, bringing their original music in acoustic form – some like you've never seen them before. Each month sees two new artists in residency, this month catch Eli Greeneyes and Sophian.

Happy hour from 4-6pm
$16 Parmi's for VIP's from 4pm.
Live acoustic sets from 6pm.

SeptemberFeature Artists:
6pm - Eli Greeneyes
7pm - Sophian
Entry is free.