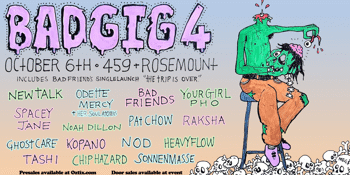 Bad Friends & Cool Perth Nights present
Bad Gig 4
with special guests
Rosemount Hotel (North Perth, WA)
Saturday, 6 October 2018 4:00 PM
Here we go again with Bad Gig no. 4!

Just like last time, we've got a whole bunch of great local bands playing throughout the day across a couple of stages, this time at The Rosemount & Four5Nine. However, unlike last time, Bad Gig will be playing host to the launch of our single, as well as possibly a few other surprises.

We've set this one up so it's back-to-back music between the Main Room & Four5Nine for the whole day/night. There will be a variety of unique, funky & eclectic acts to pique your interest in 459, as well as Odette Mercy & Her Soul Atomics bringing the boogie to the Main Room at the end of the night.
Leading up to that on the main stage are some of our favourite bands from around Perth who are all doing some great things at the moment, including New Talk (fka Rag n' Bone) who we're fortunate to have headlining.

We're also really excited to share our first single, "The Trip Is Over" with you all, and we can't think of any better way to do that with a big ol' Bad Gig.