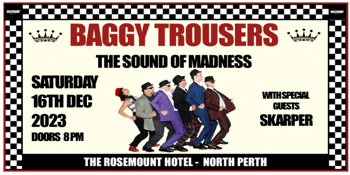 Baggy Trousers - The Sound of Madness
Rosemount Hotel (North Perth, WA)
Saturday, 16 December 2023 8:00 PM
On Saturday 16th December 2023 Baggy Trousers brings 'The Sound of Madness' to The Rosemount Hotel. You will love this journey back in time to the days of your mis-spent youth and the amazing upbeat two-tone ska/pop music sound. Get yer dancing boots on and be ready for the heavy, heavy monster sound of Madness.

London born, Australia's, premier Madness tribute with the look and sound of Madness, Baggy Trousers takes audiences back in time with classics hits such as Our House, Shut up, Bed and Breakfast Man, The Prince, House of Fun, Embarrassment, Cardiac Arrest, Madness, Wings of a Dove, Night Boat to Cairo, My Girl, One Step Beyond, Baggy Trousers, and lots more from forty years of Madness.

This is the nearest thing to Madness you'll get here in Australia.

"They sound like we used to" – Cathal Smyth, Madness
"They've really nailed that Madness sound" – Bruce Hearn, Strange Tenants

Added to this, Perth's own ska icons, Skarper bring us an incredible smorgasbord of iconic two-tone ska sounds to get the party started. You simply can't go wrong.

Tickets on sale 29thJune 2023 at 10am – it's going to be huge … get up a crew, pull on your glad rags and come on down to the Rosemount ... help us really 'push the boat out'.