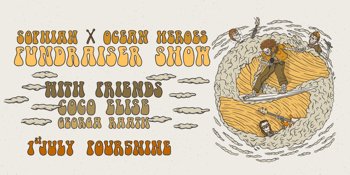 Sweetman presents
Sophian X Ocean Heroes Fundraiser Show
Georga Raath and Coco Elise
Four5Nine Bar (North Perth, WA)
Friday, 1 July 2022 8:00 pm
We are super stoked to announce this one. A very special show for a very special cause - Ocean Heroes.

Ocean Heroes have been helping kids with autism spectrum ride waves since 2016. Kids growing up with autism face unique challenges that can make it difficult for them to develop self-confidence and make friends. Learning to surf offers a fun, healthy way for children to develop that confidence, boost their mood and make connections with others.

Giving back to the local community is something that's so very important to us. It would mean the world to us if you came and supported this amazing cause. Every ticket bought will be contributed towards the fundraiser!

We've got some amazing friends joining us for the night too, Georga Raath & Coco Elise.