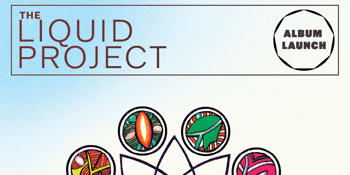 The Liquid Project - Album Launch @ Rosemount Hotel
Rosemount Hotel (North Perth, WA)
Friday, 18 December 2020 7:30 pm
It's been one year since The Liquid Project started as a band.
In that short time they have played with the likes of Odette Mercy AHSA, The Bambuseae Rhythm Section, Soukouss Internationale, and Queency, and have developed a strong reputation in the Perth local scene as a disco vibing, funk loving, high energy outfit.

They have also used their brief time as a band to champion important causes in the community such as mental health and suicide awareness, and have raised over $2000 for Black Lives Matter, and the Kangaroo Island Wildlife Fund.

Known for their wide ranging ability across genres, and deeply rooted in their love for both Jazz and Pop music, The Liquid Project are proud to present what will be a special night of entertainment. In celebration for the release of their debut album they are thrilled to have Freehand, King Ibis and Odette Mercy AHSA to play alongside them.

Tickets are $11.20+bf. There will be merch available on the day which will include shirts, stickers, and for a limited time, a special 'Album Launch Bundle' which is available online.
It includes a sticker, a t-shirt, and a ticket to the show for $35. Merch will be collected on the day.

ABOUT THE ALBUM: The Liquid Project's self titled debut album is an inter-genre exploration of the many influences that shape the bands sound, and reflects the modern trends of music listening today. The album is a diverse and story-like experience, navigating through fun and 'in your face' funk and rock, to more reflective and pensive waters, with cool jazz grooves and gentler neo soul style melodies. It takes a long Pink Floyd-esque breath to hold space for the bushfire tragedies that occurred earlier this year, to then dive straight on into 2 fast paced disco tracks, capping the album off on a slick and stylish high.