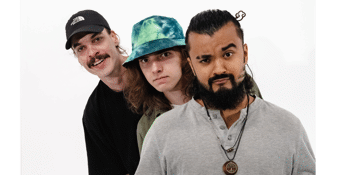 Comedy Untamed
Comedy Untamed ft. Neel, Dan, Max and Guests LATE SHOW
Rosemount Hotel (North Perth, WA)
Friday, 2 December 2022 9:15 PM
Comedy Untamed is Australia's wildest comedy show and it is coming to Rosemount Hotel!!
Comedy Untamed hosted by Neel Kolhatkar, Daniel Cawthorne and Max Dary is a 2 hour comedy spectacular with stand-up, improvisation and is the only comedy show in the country with a dedicated DJ. Featuring some of the best local comedians in Perth, testing their wits with line games that have gained millions of views across Tik Tok, Instagram and Youtube. Comedy Untamed features a first half of killer comedians and a second half of Neel, Dan and Max performing world class improv, not to mention Max will be mixing bangers before and throughout the show. Comedy Untamed, the wildest comedy show in the country is not one to be missed, get your tickets now.
CLIPS BELOW
https://youtube.com/shorts/MAfpOraWqOw
https://www.tiktok.com/@maxdaryistrying/video/7070730726148148482?is_from_webapp=1&sender_device=pc&web_id=6959692153544017409

Please note that if you purchase a group ticket it does not mean you are all guaranteed to sit together. Please make sure all ticket holders of the group arrive at the same time to secure seating next to each other.