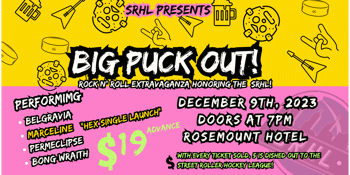 SRHL presents
BIG PUCK OUT!
with Bong Wraith, Permeclipse, Marceline, Belgravia + DJ's
Rosemount Hotel (North Perth, WA)
Saturday, 9 December 2023 7:00 PM
A Rock n Roll extravaganza celebrating The Street Roller Hockey League here in Perth! The league is an amazing community driven sport that gives you the opportunity to bleed for your burb! The self-proclaimed League for people who are bad at sport was founded in 2013 and has been going strong ever since.



Big Puck Out will include bands with various members from the league coming together to help celebrate and fundraise for the league.



 $5 Dollars of every ticket sold goes straight to the league so grab some tickets, bring your team, wear a jersey, and show support for a great community of people doing what they do sort of well!



Oh and Feral will be offering $9 XPA Pints on the night!