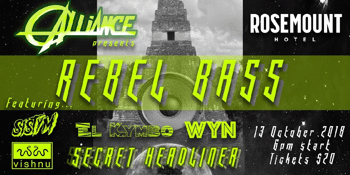 Alliance Crew presents
REBEL BASS
Featuring El Kymbo, Vishnu, Wyn, Sistym plus SECRET HEADLINER!
Rosemount Hotel (North Perth, WA)
Saturday, 13 October 2018 6:00 PM
Alliance Crew are excited to present Rebel Bass!
We would be honoured if you would join us, 13th October at the Rosemount Hotel, for an evening of Alliance flavoured shenanigans. Prepare to burn the dancefloor with your besties thanks to an awesome talent lineup featuring:

El Kymbo (Alliance Crew)
Vishnu (Camp Abode)
Wyn
Sistym (Alliance Crew)
Plus
Top quality secret headline act we're really excited about!!! REALLY EXCITED!!!!
Alliance performers "All The Lights" will be on hand with guest performers to dazzle your eyes onstage with cool toys, killer costumes and mad skills.

All this for a bargain entry price of only $20!!!! Our last fundraiser was a sellout! So make sure you get onto it!!!
Keep an eye out for our TBA event "theme" if you're the sort who likes a bit of costume action. 🤪
Awesome secret headline act will be revealed closer to event date!!!