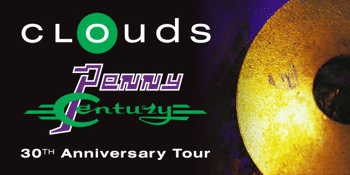 Metropolis Touring presents
The Clouds 'Penny Century' 30th Anniversary Tour (2nd show!)
with special guests
Rosemount Hotel (North Perth, WA)
Sunday, 11 December 2022 6:30 pm
*** SECOND SHOW ADDED ***

The Clouds were one of the brightest shining lights of the early 90s golden era of Australian Indie Music releasing some fine indie nuggets… at times dream pop, sometimes shoe gaze-y, every now and then guitar crunch, but always with a pop sensibility.
Their 1991 debut "Penny Century" was brimming with pure indie guitar pop goodness including Hieronymus, Soul Eater, Anthem and more. The album reached #14 on the Australian Charts and was Certified Gold!
To celebrate the 30th Anniversary of Penny Century the classic line-up of Jodi Phillis (Guitar/Vocals), Trish Young (Bass/Vocals), Dave Easton (Guitar) and Raphael Whittingham (Drums) will play "Penny Century" in Full plus a Special Encore of Hits including Say It, Cloud Factory, Red Serenade, Bower of Bliss, Sweetest Thing and More
"Penny Century is full of two and three-minute catchy harmonized indie pop" Dig Me Out
"Penny Century, with its Pixies-like dynamics and the intricately winding harmonies of Phillis and Young, is still a well-loved artefact from the era" SMH