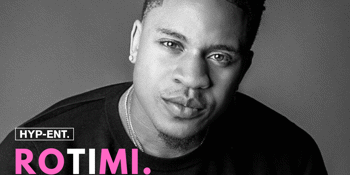 Presented by - Hyp Ent Group
ROTIMI.
Supported by - DJ Pvnch (NY) / Adrian Dzvuke
Rosemount Hotel (North Perth, WA)
Thursday, 29 February 2024 8:00 pm
Rotimi, the multi-talented singer and actor known for his charting singles "In My Bed",
"Love Riddim" and starring role on the STARZ hit series "Power," is jetting down under
for his first-ever Australian tour this November 2023. Four shows have been announced
starting at Sydney's Ivy, Trak in Melbourne, Eatons Hill in Brisbane and finishing off at
Perth's Metro City.

Joining the RnB/Afro superstar across the tour is New York veteran, DJ PVNCH along
with supporting performances from Will Singe, who will bless the stage in Sydney,
Melbourne and Brisbane as well as Adrian Dzvuke in Perth.

Limited tickets on sale now.

About Rotimi:

Boasting cosigns from T-Pain, 50 Cent, JAY-Z, Jamie Foxx, and T.I.,Rotimi is leading a
new era of game changers. While widely known for his acting role on STARZ hit series
Power, Rotimi assured fans that his repertoire stretched far beyond his on-screen
character having accumulated over 1.5 Billion streams on his music that infuses
contemporary R&B with traditional Afrobeats and dancehall. A New Jersey native of
Nigerian descent, Rotimi inherited an eclectic musical palette with the likes of Fela Kuti,
Bob Marley, and Ms. Lauryn Hill, always in rotation.

In 2015, he signed with 50 Cent's G- Unit Records, which would prepare him for the
inevitable success of his charting 2017 debut EP, Jeep Music, Vol. 1. Featuring guest
verses from 50 Cent and T.I, as well as his breakthrough single "Want More", featuring
Kranuim, the project cemented Rotimi as a strong vocalist andsongwriter with a knack
for sultry slow jams.

After inking a deal with EMPIRE to put out his EP's, "Walk With Me" and "The Beauty of
Becoming", which included his biggest hits like "Love Riddim" then "In My Bed" featuring
Wale which peaked at #12 on the Billboard Hot R&B Songs Chart, #15 on the Billboard
Top Thriller Global Chart, and became the singer's first RIAA Gold Certified record.
Rotimi has since been busy constantly releasing singles and feature performances
including his latest release in 2023, "Bestie".

Presented By HYPENT.