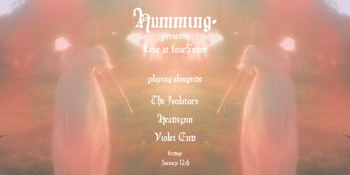 Humming Live at Four5Nine
with The Isolators, Headspin, Violet End
Four5Nine Bar (North Perth, WA)
Friday, 12 January 2024 8:00 PM
Humming, the alternative rock band from Perth, is poised to reclaim the stage at Four5Nine on January 12th, following the band's recent show and releases.



Humming has established a distinctive style characterized by a unique fusion of soft reverb tones and impactful, groove-laden, heavy-hitting riffs, building a unique atmosphere whilst captivating audiences.



Building on the momentum from their recent releases, the band is ready to showcase their ever evolving musical journey at this upcoming show. With support from The Isolators, Headspin, and Violet End, Humming are setting up the stage for an exhilarating performance, and promising to deliver another unforgettable experience.