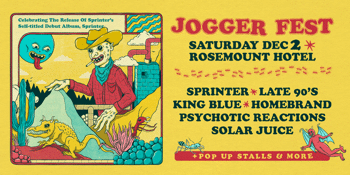 Sprinter & BASE MGMT Present
JOGGER FEST - Celebrating Sprinter's Debut Album
with King Blue, Homebrand, Psychotic Reactions & Solar Juice
Rosemount Hotel (North Perth, WA)
Saturday, 2 December 2023 6:30 pm
Sprinter are a psych rock band from Perth, Western Australia. Formed in 2022, the brain-child of Jon Stapleton, Madi Hanley, Gus McKenzie and Lachie Hanley has rapidly grown into a world of fuzz guitars and other-worldly vocals sitting on a bed of rock solid, high-octane drums and bass.

Their first 5 singles all garnered Triple J attention and they've shared the stage with the likes of Psychedelic Porn Crumpets, Frankie and the Witch Fingers, Royel Otis and many more.

November will see the arrival of their debut album - Sprinter - a DIY effort recorded between their own share houses and the local pub.

In celebration of the album release, Sprinter have put together a festival mere metres away from the bar room they recorded it in. The Rosemount Hotel main room will play host to Jogger Fest, featuring a stacked line-up of Perth's best, as well as...

Rose & Blade pop up barbershop
Krystal's UV Facepaint

See ya there!