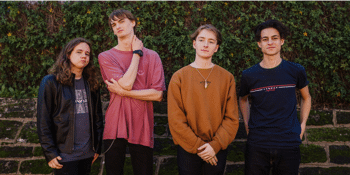 Antithesis
Antithesis // 'High Tide' Single Launch
The Faux, Eleven AM and Rothko
Four5Nine Bar (North Perth, WA)
Friday, 9 September 2022 8:00 pm
Antithesis (not 'anti-thesis') are the freshest alternative band to hit the Perth scene with their debut song 'High Tide'.
High tide is a dark reflection on losing someone that cannot be forgotten no matter how you try to repress it. It aims to capture the feeling of falling into a memory that you've tried to forget on a long drive at night.
Starting as a duo act, Tom and Luke have integrated the talents of Kane on bass and Jarvis on the drums to complete their live sound. This will be their first show as a full band, and joined by music buddies The Faux, Eleven AM and Rothko in the intimate Four5Nine Bar.

The debut single from Antithesis 'High Tide' will be out on all streaming platforms on the 5th of September.
$10 pre-sale tickets. Doors
at 8:00pm
.