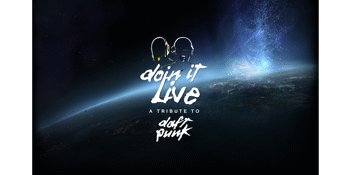 Doin' It Live: A Tribute to Daft Punk -FINAL PERTH SHOW-
Rosemount Hotel (North Perth, WA)
Saturday, 30 July 2022 8:00 PM
> FINAL PERTH SHOW <

Now that the world will no longer be able to see the Superheroes that are Daft Punk Face to Face, we have decided to make Contact.

So instead of mourning the split of those elusive Robot Rockers, we decided we would try to Give Life Back to their Music and honour our Teachers.

Playing highlights from Daft Punk's entire discography, this 8-piece live band have been doing their homework to ensure that this gig is guaranteed to be the Prime Time of Your Life. Although going above and Beyond to assure we're Doing It Right, we'll still need to Get Lucky to pull off this set, as we're only Human After All...
So come on, don't let Television Rule your Nation, come Lose Yourself to Dance as we turn The Rosemount Hotel into a proper Steam Machine for the very last time in Perth!