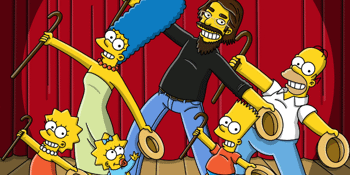 BOADZ
Songs in The Key of Springfield/BOADZ (Dale Boaden)
Four5Nine Bar (North Perth, WA)
Friday, 10 June 2022 7:30 PM
'Songs in The Key of Springfield' is a night of ridiculousness, nostalgia bombs and singalongs to tunes you didn't know you remembered, with all the best music from the golden age of The Simpsons brought to you live by your ol' mate Boadz.

Imagine standing shoulder to shoulder (or, the responsibly distanced, government mandated equivalent) with adults who are just as huge a Simpsons nerd as you, as you drink a few beers, yell out perfectly timed quotes and sing along to all your old favourites, from 'See My Vest' to 'Can I Borrow A Feeling?' to 'Monorail' to 'Dr. Zaius' and all the rest..

This fantasy could very well become your reality, as Perth-born, Melbourne-based guitarist and singer Boadz brings home to Perth the show that has been a must-see event in Melbourne, as well as selling out venues in Sydney and Adelaide.