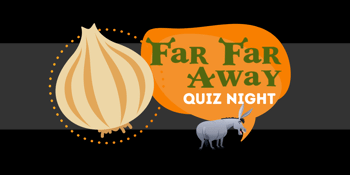 Bamboozled Quizmasters
Far Far Away Quiz (for fans of Shrek)
Rosemount Hotel (North Perth, WA)
Wednesday, 3 August 2022 6:30 pm
Calling all fairytale creatures! Head on down to the not so far far away Rosemount Hotel for a night full of Shrek related trivia. It's gonna be champagne wishes and caviar dreams from now on.
That'll do Donkey!
Teams of 2-8 people
Doors open at 6.30pm.
Quiz starts at 7.00pm sharp.
FREE ENTRY
TO BOOK: Call the venue
- - - -
This is an unofficial event put on by fans for fans. Neither Bamboozled Quizmasters or this event is affiliated with, sponsored by, or carried on by DreamWorks Animation, Universal Pictures or any other third parties. Photographs posted on this page by other parties are not authorised by us.