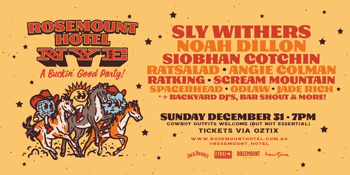 Rosemount Hotel, Jack Daniels & Feral Brewing Co present
Rosemount Hotel NYE: A Buckin' Good Party ft. Sly Withers
featuring Sly Withers, Noah Dillon, Siobhan Cotchin and more!
Rosemount Hotel (North Perth, WA)
Sun 31 December 2023 - Mon 1 January 2024 7:00 PM
YEEHAW! Saddle up for the last night of the year, let's make it one for the books at the Rosemount Hotel NYE hoe-down on Sunday, December 31st.



This here's a full-venue festival, a real wingding, with live bands that'll knock your boots off. We've got Sly Withers, Noah Dillon, Siobhan Cotchin, Ratsalad and Angie Colman in the Main Room, and Ratking, Scream Mountain, Spacerhead, Odlaw and Jade Rich taking over the Four5nine band room. Out in the backyard the DJs will keep the dance floor smokin' hot from dusk 'til dawn.



Now, I reckon this year's been tougher than an old leather boot for live music. Them musicians and venues have been wrangling with challenges you wouldn't believe. That's why it's more important than ever to rally 'round our live, original WA bands. We gotta show 'em some love, and that's what we're doing at the Rosemount this New Years Eve.



The whiskey's flowin' with Jack Daniels specials all night long, plus a good ol' Bar Shout to kick things off thanks to our pals at Feral Brewing Co - get down between 7-8pm to be shouted a brew at the bar!



Mark your calendars, y'all: Presale tickets will be ridin' in on Monday November 13 at 8am, and General Admission tickets are up for grabs starting Tuesday November 14 at 8am.



For those with woes about the state of this gosh darn expensive world we live in - you can ZIP Pay your ticket at the checkout to pay it however your heart desires.



Don't let this chance slip through your fingers, 'cause we're fixin' to make this NYE a night to remember, and we sure hope to see you folks there!