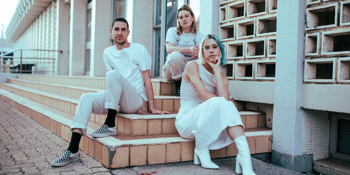 Raida Artists
Mal De Mer 'Gone Fishing' EP Launch
Rosemount Hotel (North Perth, WA)
Saturday, 22 May 2021 7:00 PM
Mal de Mer is a dynamic 5-piece Perth band that effortlessly glides between Funk, Indie, Soul, Pop and Jazz, blending them all together with an Australian twang; adding a flavour that isn't commonly found in these genres. With groove shifts that keep you on your toes, and unapologetic lyricism that speaks directly to your inner angsty teen, the band is continually honing their craft and sound with each release.
Mal de Mer consists of John Harvey (guitar), Julia Wallace (trumpet/keys), James Marelich (drums), Bella Waideman (bass), and Saskia Fleming (vocals).
Mal de Mer fuses the member's individual musical inspirations and writing styles together seamlessly, creating a powerhouse up-and-coming group with a distinguishable sound. With a new single 'Far Cough' now out, and their debut EP set to be released in the coming months, Mal de Mer are launching into 2021 head-on!