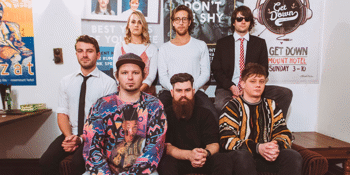 Presented by Beardfoot
The Brow Farewell Show
with Sam Perry, Colab, Premiss, Pimps Of Sound & DJ Genga
Rosemount Hotel (North Perth, WA)
Friday, 28 September 2018 7:00 PM
After ten years of playing as The Brow/Brow Horn Orchestra, we've decided it's time at last to hang up our horns.

We've been extremely fortunate: we've been able to play some incredible festivals, some truly righteous parties, and the pubs and venues of our childhood. We've supported some of our biggest idols, and we've also met some of our closest friends over the course of The Brow's career. We've been places and done things we wouldn't have dreamed of when busking with a trombone and an old Casio keyboard on the streets of Freo, circa 2008.

It now seems that we all have different, exciting avenues to explore, and new priorities and needs to listen to. So, with a few tears and beers, we're saying goodbye with one final show at The Rosemount Hotel on Fri. 28th of Sept. Join us for a final horn-blaring, snare-smacking ruckus.

We owe a lot to many, and we owe it all, in the end, to the people that came to our shows and gave us energy; the people who copped a CD from a sweaty horn player after the show, and the industry and musical community that supported us along the way. Thank you. Love+props also to our families and friends, for all your emotional and financial support, your time, and your love. It's been a ride, a whale, and a tale.

Main "support" comes from our co-conspirator, talent-hog and all-round lovely bloke, Sam Perry. Joining him are The Moon Café's famous Colab Jam Band featuring Marksman Lloyd, Mathas, Kruger James, Beckon & MACSHANE, along with Premiss featuring Hyclass and Mamma Teesh, plus live DnB from Pimps Of Sound. Filling the gaps will be Perth's favourite ginger, DJ Genga. Come and blow the roof off with us one last time.