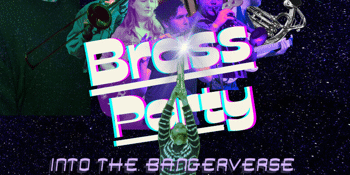 Brass Party: Into The Bangerverse (Fringe Festival)
Rosemount Hotel (North Perth, WA)
Sunday, 11 February 2024 7:00 pm
Brass Party returns for another FRINGE WORLD extravaganza!
Now dig on this; we're going to the movies! This year, denim-clad duelists of fate are bringing their flair for high-energy, horn-heavy bangers to the world of cinema. Hans Zimmer doesn't have anything on the phat bass this band can produce!
Take a journey with us through the classic soundtracks of yesteryear, and the Oscar-baitiest of pop songs that snuck their way onto the screen.
It's all the heart-pounding intensity of John Williams, but with live horns and a killer band. Ain't no party like a Brass Party!
"The most energizing dance party! Pop like you've never experienced before."
★★★★
½ Fringefeed, 2022
Sunday Feb 11, 7pm doors, 7:30pm show
Tickets: $25 Full Price
Tickets at www.fringeworld.com.au