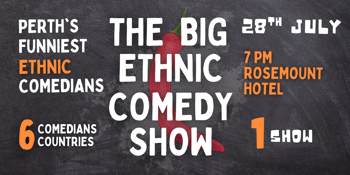 Comedy Corp and Shash Kapur
The Big Ethnic Comedy Show
MC Jason Wood with Thabo Tshuma, Nicole Shi, Jasky Singh, Saadi, Miss Samia and Shash Kapur
Rosemount Hotel (North Perth, WA)
Thursday, 28 July 2022 7:00 PM
Best Ethnic Comedians in Perth are here!
From scoring ★★★★★ FringeFeed Reviews to RAW Comedy Finals, these comedians have stirred big laughs all around Australia.
With Jason Wood as your MC, Thabo Tshuma as the Headliner and support acts by the rising superstars Nicole Shi, Jasky Singh, Saadi, Miss Samia and Shash Kapur you are guaranteed a crazy dose of laughter!
Described as FUNNY AF by the Aussies and Dropkicks by their parents, these Ethnic Comics are not something to be missed. So don't wait, come witness diversity, culture and comedy all at once.
One Show only, do not miss out!!!