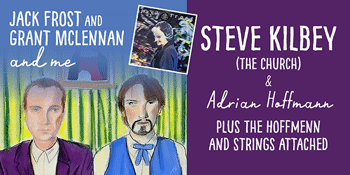 Steve Kilbey (The Church) and The Hoffmenn with Strings Attached
Jack Frost and Grant McLennan and Me
Rosemount Hotel (North Perth, WA)
Sunday, 24 March 2024 6:00 PM
Jack Frost and Grant McLennan and me.
Playing the entire first Jack Frost album plus a selection of The Go-betweens and The Church.

Legendary singer/songwriter Steve Kilbey, renowned as the frontman of the iconic Australian band The Church, is set to grace the stage for a special, one-off show at The Rosemount Hotel, North Perth, on March 24, 2024. Known for his musical prowess that brought us timeless hits like "Under The Milky Way," "The Unguarded Moment," and "Almost With You," Kilbey will perform the entire Jack Frost album, co-created with esteemed Australian songwriter Grant McLennan of The Go-Betweens fame.

This unparalleled event will not only be a rendition of the pivotal album but also a journey through some of Grant's remarkable Go-Between songs, accompanied by stories reflecting their collaborative experiences and the time shared in the music world. This gathering serves as a heartfelt tribute to McLennan.

Perth's acclaimed singer-songwriter, Adrian Hoffmann, will lend his voice to all the Grant McLennan parts from the Jack Frost album. Hoffmann, recognised for fronting 'The Songs Of Grant McLennan' show at Lyrics Underground, Maylands, in May 2023, received outstanding reviews, captivating audiences with a dynamic 7-piece band, interpreting Grant's diverse musical collection from obscure gems to celebrated Go-Betweens hits.

Sharing the stage with Kilbey and Hoffmann will be some of Perth's finest musicians and a distinguished string ensemble, ensuring an evening of nostalgic brilliance and musical excellence. Featuring Anna Sarcich on Cello, Rachael Aquilina on Violi, Shaun Corlson on guitar, Lochlan & Shaun Hoffmann on percussion.