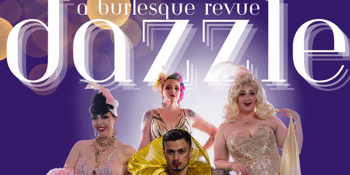 DAZZLE (Fringe Festival)
Rosemount Hotel (North Perth, WA)
Wednesday, 24 January 2024 7:00 pm
DAZZLE - (verb) 'to arouse admiration by an impressive display'.
Burlesque, the art of the striptease, has grown into a worldwide phenomenon and takes many forms. 'Dazzle' prowls the art of sensuality, the moment between performer and audience where the outside world falls away and nothing else exists; a moment of purity, arousal and connection. Curvy Lust debut their first production at FringeWorld'24 by paying homage to the art of the tease, hand picking only the most delicious of fruits from all over the country to perform just for you. Classic, sensual, and the ultimate tease, 'Dazzle' reminds us all of the power we hold within.
"An Utter Delight, Start to Finish"
★★★★
½ Fatal Femmes, 2022
"Funny, Sexy and Endlessly Entertaining"
★★★★

An ACTUAL Variety Show, 2023

Wed Jan 24, 7pm doors, 7:30pm show
Sun Jan 28, 7pm doors, 7:30pm show
Tickets: $33 Full Price, $28 Group of 6, $10 Artists, $28.50 Concession + more promos on website
Tickets at www.fringeworld.com.au