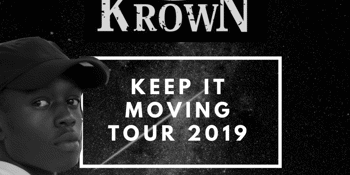 Krown 'Keep It Moving' Tour
Hyclass, Alex Parkman, Black Napoleon
Four5Nine Bar (North Perth, WA)
Thursday, 28 November 2019 8:30 pm
Coming straight off the back of featuring on Sampa the Great's newest release The Return, and supporting the likes of Adrian Eagle and Gamirez, Krown is returning to Perth to perform Keep It Moving.
This EP is about the revival of a dream deferred; does the chaser let it go or go die for it as was intended in the first, as before all was created was the word in the mind of the creator so it must track back it's origin and find home where it doesn't find home.
Keep It Moving is giving breath to a dimming vision that one must fight for.
To die for something is the true definition of living, one must go after what he believes in or he/she will suffer the from the world's smallest and biggest weapons.