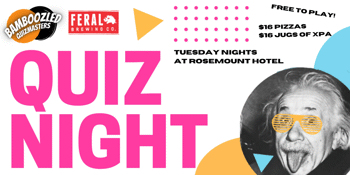 Bamboozled Quizmasters present
Tuesday Quiz Night
Rosemount Hotel (North Perth, WA)
Tuesday, 16 January 2024 6:30 pm
Rosie's regular Tuesday quiz night! Book a table for you and your pals now...

Tuesday nights at Rosemount not only means $16 Pizzas and $16 Jugs of XPA – now we're putting on some tasty trivia for you to soak up some knowledge as well as our weekly food specials.
Get ready to compete for big prizes such as Food & Beverage Vouchers to spend at your favourite pub on your favourite grub. Our pals at Bamboozled Quizmasters will bring you the very best of general knowledge trivia to test those noggins and give you an excuse to catch up with mates on a school night.

Bookings are essential.

Email events@rosemounthotel.com.au to book your table of 2-8 now!