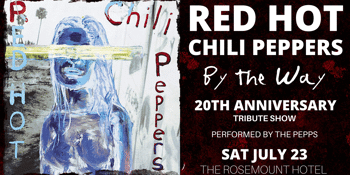 Big Tommo Presents
RED HOT CHILI PEPPERS 'By The Way' - 20th Anniversary Tribute, performed by The Pepps
Clauds
Rosemount Hotel (North Perth, WA)
Saturday, 23 July 2022 8:00 PM
RED HOT CHILI PEPPERS seminal record 'By The Way' to be performed in full by Perth's premier RHCP tribute; 'The Pepps' to celebrate it's 20 year anniversary, July 23rd at The Rosemount Hotel with special guest, Clauds.

Released on July 9th 2002, 'By The Way' was The Red Hot Chili Peppers eigth studio album which went on to sell more than eight million copies worldwide and featured singles; 'By The Way', 'Can't Stop, 'Universaly Speaking', 'Dosed' & 'Zephyr Song'.

More akin to previous record 'Californication' than the bands earlier punk-funk fusion released, 'By The Way' showcases a gorgeous collection of pop rock arrangements with clear influences from The Beatles & Beach Boys and is layered by lead guitarist John Frusciante's doo-wap stacked backing vocals - the guitarist being credited as lead song writer for the record.

'By The Way's is a favourite record of 'The Pepps' and they are excited to be performing it in it's entirity to celebrate 20 years since it's release while celebrating their own three years running as Perth's premier Red Hot Chili Peppers tribute act!

We'll see you there.